SURREALISM ART : Detailed illustration of the Toronto Skyline and the story behind this strange image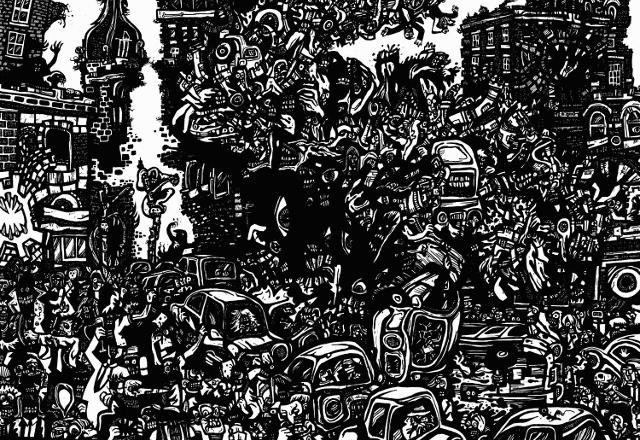 MONSTER CITY! All the people, cars,  wires and buildings come together as a metaphysical monstrosity!
WELCOME TO THE CITY OF GEARS!
HEY APATHY! SURREALISM ART! Monsters, Cars, Commuters and Consumers attempt to co-exist in the chaotic carnival of the big city! Technological Tentacles assimilate mankind, inanimate objects rise in revolt, smog fills our lungs and mutations, deviations and diabolic deformations go unnoticed beneath the flickering glow of the almighty billboard. One hero rises and another falls as new products, useless trends and strange ideologies sweep through the downtown core. Beware the whirlwind cog wheels of the factory for many are lost and almost none are ever found drifting along the concrete walkway; the buildings are aligned as a giant gear but it's up to all the deranged denizens to make it spin!

This is one of my favorite collections in the "HEY APATHY!" series. I made these works while sitting on the sidewalk of Queen Street West in Toronto's busy fashion and shopping district. Following an exciting season of live street painting performances I decided to sit back, relax and doodle away using a set of fine tip technical pens and archival illustration board.
The summer of 2005 had come to a close and while the streets remained inspirationally lucrative it was a great time to meditate on the all the interactions and adventures I'd experienced as a public performer and anthropological observer during the past few months.  Many of the characters, stories and images I instigated during my live painting performances and  in the HEY APATHY! comic book series were developed in these drawings.
The Monstrous Metropolis illustrations took anywhere between 30 and 150 hours each to create including the time I'd spend talking to passing Torontonian pedestrians and an assortment of tourists from all over the world. The full collection was exhibited in my Kensington Market Studio Gallery in the winter of 2005. The show featured numerous detailed pen and ink drawings, over 100 small brush on paper performance works and 10 large murals. 
Following the successful surrealism art exhibition I created my first edition of digital prints using images from this series. The intricate ink drawings have since been produced in various sizes as screen prints, art print giclees, limited edition books and on T-Shirts, and have continued to rank among my most popular artworks with fans and collectors alike. 
WEIRD DRAWINGS Check out images from the Kensington Market Studio Gallery Showcase.