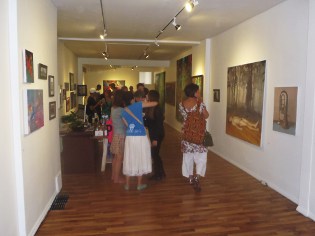 Pen and Ink Drawings "Natural Technologies" is a collection of 13 comic book illustrations created between May- June 2011. The drawings are divided into two related narratives. The first a series of metropolis crowd scenes in which the city is personified, representing various emotional states reflective of it's human denizens. The second set depicts a surreal struggle between the nature and the metropolis in which a number of omnipotent trees attempt to establish themselves among the towering skyscapers. Ultimately the two forces are reconciled in an unusual manner as the trees, man, and concrete architecture assimilate one another symbolically reinvented as an entirely new existence.

Through the use of detailed yet playful cartoon renderings the work examines the contemporary issues of sustainability, commercial excess, alienation and community questioning logic behind our predominantly selfish ideologies when compared to the reality of a microcosmic global, ecological, sociological and economic system.  The works express an optimistic warning toward our future using comic book style imagery accessible to viewers of all ages.

"Voodoo City" painted object 2011. This acrylic on a wooden chair work was one of several "HEY APATHY! painted objects produced in 2011. One of the most interesting aspects of the work involves a constant recreation of reality. Using colored backdrops, interactive videos, live painting, sculptural elements as well as floor and ceiling installations, the "HEY APATHY!" artworks attempt to control peripheral and multi-dimensional space. The idea is to engulf both the physical and psychological experience of the viewer offering an escapist environment capable of inducing both an analytical and imaginative critique.