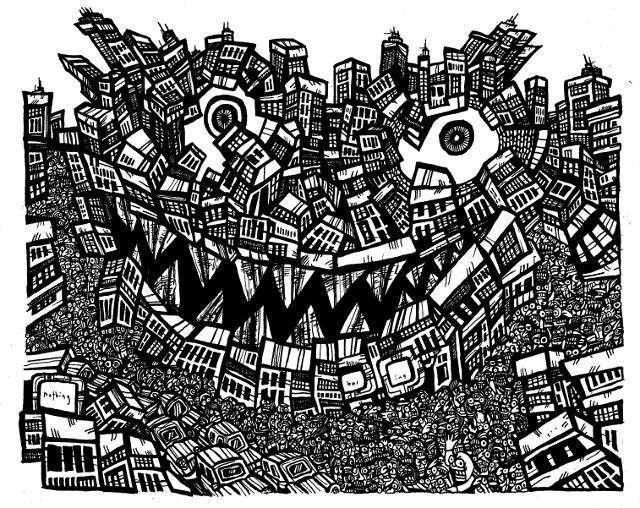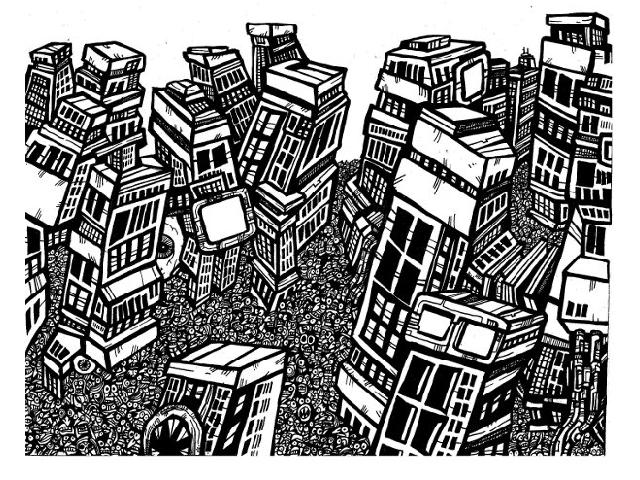 URBAN ARTWORK COMIC BOOK DRAWINGS
BLACK AND WHITE DRAWINGS The city is a giant gear but it is up to all the strange denizens to fuel the machine! Spiraling around and about our routines, hopes, and dreams, it is easy to forget we are all important parts of a macrocosmic metropolis. The urban factory is an intricately interconnected network of busy bodies, business deals, weird ideas and surreal sanctuaries in which every event affects every other. Commuters pile in an out of a vascular transit perpetually crowded, eternally alienated but never alone. When the clock strikes we all move, when the sun falls we all drink and when skyscapers scream we all feel the pain. Yet despite it all each and every individual fulfills an integral role, if one of us stands out or falls down, eventually others will follow. The city is monstrously mechanical but at the center of the madness hides the eyeball of human consciousness; our thoughts, our compassion, our aspirations and executions formulate the axis on which this diabolical gear spins…

In this collection I revisited some of the urban imagery I developed while working as a street performer. In particular I continued to examine the metaphorical "City of Gears" in which the metropolis takes the shape of a giant gear or cog wheel. The gear is being propelled by hundreds of strange little people spinning through the streets. The characters continually morph into one another; one person's left eye becomes another caricature's right eye and so on. These surrealist abstractions symbolize both the role of the individual and the unified nature of human existence. In this particular series there is a tendency towards the personification of the city as a whole. The buildings and people come together revealing the city's identity as an accumulative product of the personalities inhabiting it.

This series included five 8.5 x 11 inch black and white drawings. Each detailed illustration took between 8-15 hours to create.  The works were made with pen and ink on archival illustration board in the summer of 2011. The complete collection was showcased in the storefront window of the Robert Kananaj Gallery during a group exhibition in August 2011.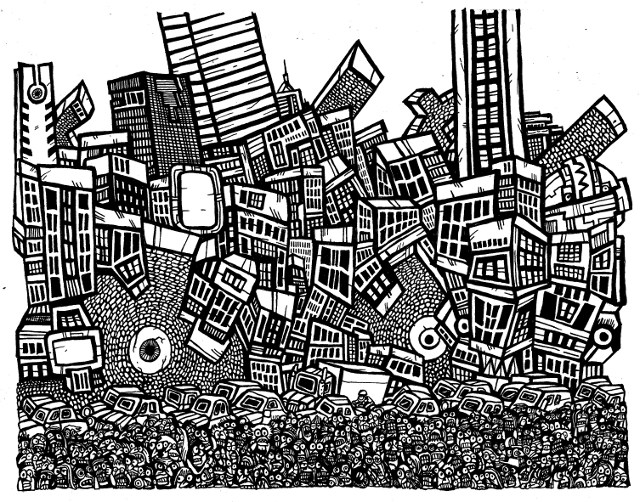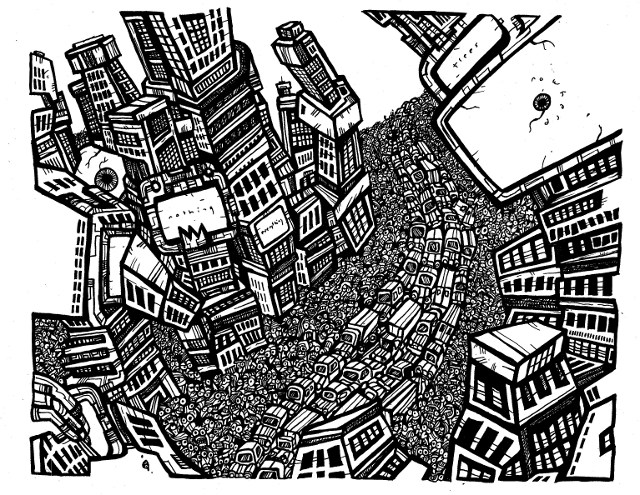 RELATED PAGES