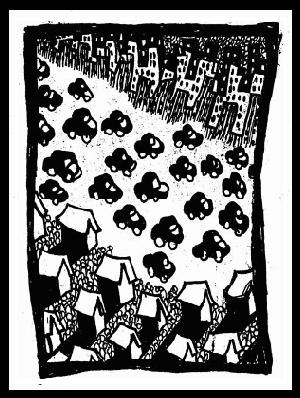 "HEY APATHY! & the Apocalypse" Pen and ink Art 2001-2002. This large format drawing installation opened at the Ontario College of Art and Design's (old) Atrium Gallery in Jan. 2002. The series featured variations of a thematic diptych consisting of nihilistic metropolis landscapes and their post apocalyptic annihilation.  Giant cartoon cityscapes lined with tombstone towers and enveloped by infinite hordes of anonymous denizens were coupled with precognitive images of the city's destruction.
Expressing a deep concern for a world controlled by ideological alienation, the drawings hypothesize a disastrous resolve for such an unsustainable existence. Although the images appeared to be directly related to the events of September 11/2001, most of the smaller  artworks were created and exhibited in the O.C.A.D. drawing & painting showcase in March 2001, months before the attack. The series was initially conceived as a metaphoric demolition, an attack on banality, rather than a literal depiction.  

The artwork was created using two differing technical approaches reflective of the symbolic semeiotics behind the diptych. The HEY APATHY! cityscapes were extensive, prolonged, and contemplatively repetitive studies, while the "Apocalypse" imagery utilized a spontaneous and expressive approach. These contradictory methods compare the intricate progress of mass sociological structures to the instantaneous simplicity of destruction. No matter how sophisticated the world has become, our lifestyles and technologies remain fragile, and often retain responsibility, in the face of disaster. The large city skyline drawings generally took between 50 – 100 hours to create while the apocalypse renderings would be limited studies done in 30 minutes or less. All of the drawings were made using custom hand-crafted bamboo quill pens on a heavy weight paper.

This entire inaugural collection of Mike Parsons' HEY APATHY! works included over one hundred and fifty 5 x 7 inch ink drawings,  30 poster sized works, and 15 large murals.  In addition to the ink drawings the show included a corresponding comic book, and over 3 minutes of experimental stop motion animation (see video at bottom of the page). The exhibition of the work was also an integral part of artist's conceptual intent.  The installation invited the audience into an all encompassing imaginary metropolis utilizing a custom U-shaped floor plan, painted red gallery walls, and a 60 x 80 foot acrylic on a sewn bed sheets cartoon skyline back drop.  This design offered a peripheral escapist environment demanding the audience's full attention, analysis and contemplation.