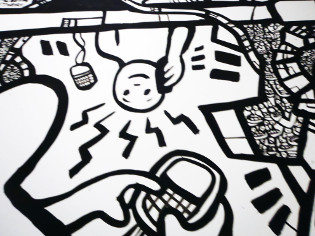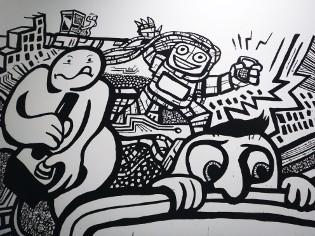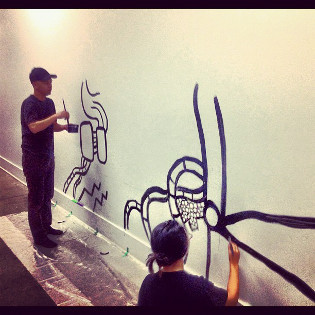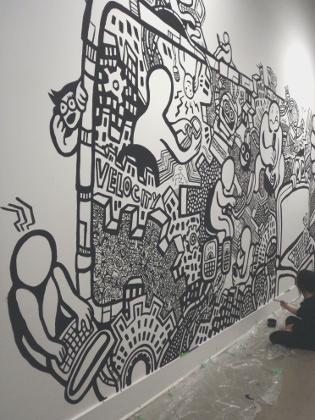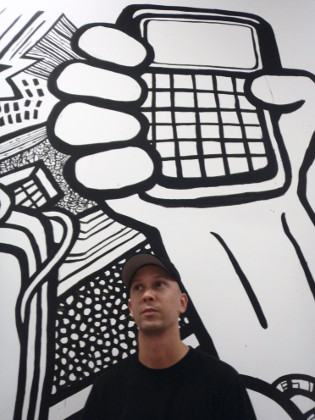 MURAL ART! Giant Robot Monsters using hand held devices and video game controllers spiral around a computerized world in this technology themed artwork. For this image I took a slightly different approach to my metaphorical city of gears as the entire scene is actually taking place inside a computer screen. While the building still spin around like oversized cogs this drawing suggest that our lives are moving away from the concrete streets and onto a cyber-sidewalk.

 This electronic epiphany was commissioned by the Communitech Hub, a large office loft space which houses a number of technology based and internet start up businesses. They wanted to fill up one of the major hallways connecting different parts of the building with some exciting graffiti styled artwork. The chosen images and themes represent the practices and ideologies of the companies in the building.

This was an interesting theme for me because I have always loved to draw robots and wires. It was also exciting to tone down the city elements which usually dominate my illustrations. The only difficult task here was to keep the image light hearted. The mural is in a public and commercial building so I couldn't get to crazy with mecha-robot takeover. In order to adjust my style to be more user friendly I generally find that less detail is appropriate. The exact same smiling monster can go from friendly to threatening simply by adding more scratch lines, hatching and hairiness to the work. However many clients prefer my simplistic "happy" characters to the creepy ones. I developed a broad range of styles from public to horrific.

The entire project took two days to complete and covered approximately 150 square feet. It was a fairly simple job as far as technical challenges. The smooth indoor drywall was already primed and an ideal surface to paint on. I used interior acrylic latex, a few different brush sizes and a 10 foot ladder to complete the work. I was lucky to have an assistant for this job because the most difficult task was cleaning up the edges and painting over the whole mural twice to get a rich solid black.