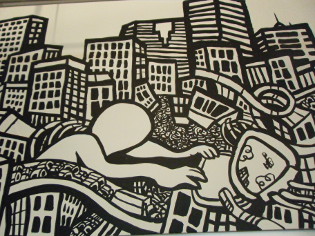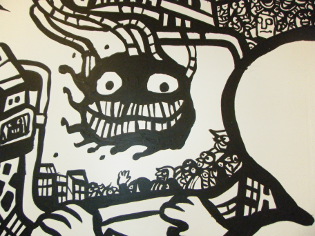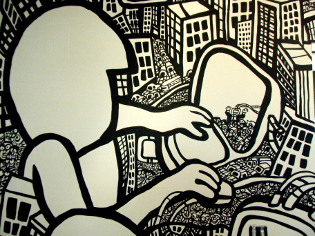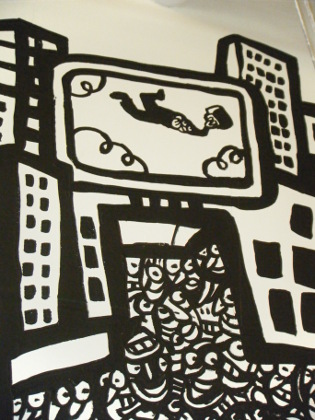 Giant ghost like figures loom over the city hacking into the billboards like oversized computers. Texting, posting, linking and scrolling these unseen forces seem to be controlling the metropolis. Wires and signals run from the ominous screens moving the crowds and the traffic to the beat of an electronic drum. Strange and menacing creatures can be seen exiting the screens as the cyber world and the physical realm morph into one. Welcome behind the scenes in the city of gears!

This large wall mural was commissioned by a young social media company called Bizmedia in downtown Toronto. They wanted something to spice up their office space and were familiar with my street art performances and graffiti work. This was one of my favorite indoor productions as they gave me complete creative control to approach the mural however I liked. Inspired by the environment I came up with the weird tale of the billboards and mixed the idea of people working at computer desks into the surreal city. I hadn't done anything like that before and was really excited by the way it worked out. The employees at the office all found favorite images, one character near the top was nick named " just one more tweet" because he appears to be collapsing at the console.

The artwork is approximately 10 feet high by 25 feet long minus the double door . I also did a pillar located a few meters from the wall. The project was done with a few different sized brushes and interior latex acrylic paints. The completed work took 4 or 5 days which is a bit longer than most of my murals, however I was really enjoying this one and put in a lot of details. The entire process was documented by the company and edited into the amazing time lapse video posted at the top of this page. The Bizmedia crew was so stoked by the experience that they  continued to collect  other murals  artworks from some of Toronto's best street painters.