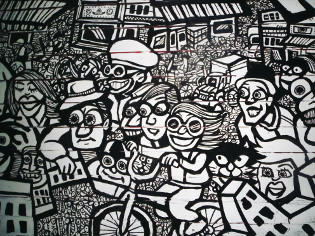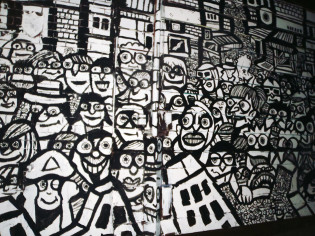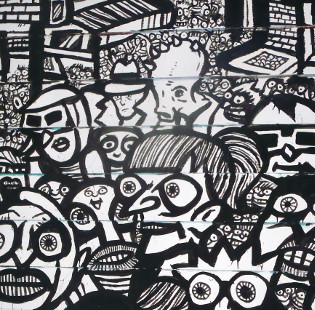 TORONTO MURAL GRAFFITI 
---  Mural Graffiti in Toronto's Kensington Market! A crazy crowd of diverse characters marches through the market looking for food, clothes, fun and socialization under the old fashioned canopies of the brickwork buildings. Hidden amongst the unusual suspects are monsters, witches and fairy tale heroes after all this is just another day in Kensington. For this 150 foot long lane-way artwork I wanted  to create an imaginary reflection of one of Toronto's most famous neighborhoods. Kensington is still an old fashioned style neighborhood were peoples and cultures from all over the world collide. 

In order to mirror the market I designed the mural to include life-sized ( albeit somewhat exaggerated) characters and buildings mimicking the surroundings. All the buildings have little shop signs, brick faces, overhanging canopies and small apartments on the second floor. It was really interesting to just continue the real architecture with the painted imagery as though it where an actual building. It is not often one gets to play with this kind of scale and perspective. Like wise I was able to pluck various characters right off of the street and onto the wall. This was really easy as I worked on-site  during the daytime so I could use the passersby as my models. I also added a number of Kensington styled icons such as cats, cockroaches,  bicycles and musicians. The inclusion of few famous fictional characters helped me round of the mural as they represent the magical side of the market that anyone whose ever been here can sense. This artwork took me about five days to complete during the fall of 2012.

This was a really exciting project as it was part of Toronto's new START initiative. START is a street art program designed to bring quality artworks to various high traffic areas throughout Toronto. The goal is to make the city a more exciting place and to give talented artists an opportunity to work on large scale sanctioned projects. My mural was one of three large works that the city commissioned for Kensington Market in 2012. It was awesome to be a part of it as each artist was very skilled an entirely unique. The works included a more traditional graffiti styled alley, a mix of illustration and writing on a rooftop and my surreal comic book style in the lane way.