How to draw graffiti performance art
Taking Directions from the audience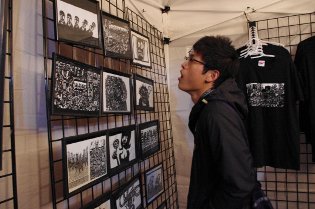 Live painting exhibition during the Nuit Blanche all night gala event. The HEY APATHY! showcase was set up under a tent gallery with a 15 x 15 foot performance work, ink drawings and live musical accompaniment . The  installation featured an extended collection of ink drawings spanning the years 2002-2009, a complete line of limited edition merchandise including fashion designs, giclee prints and graphic novels as well as a live graffiti mural demonstration. The music was created by a group of masked performers through the use of improvisational equipment such as drums, singing, wind instruments and audience participation.

The live performance mural depicted the city as if from an imaginary or unconscious bird's eye view. The strange patterns revealed the metropolis as an ominous gear propelled by endless crowds of absurdist caricatures. Thematically the work examines the role of the individual and the importance of all our actions and interactions amidst the microcosmic metropolis. In order to emphasize these ideological statements the audience was encouraged to direct the painting by offering suggestions, posing for the work, and participating in the musical jam session. Unlike most illustrated artworks it is the direct communications with the viewer that make this process exciting.  

The entire exhibit took place on Queen Street West and Soho  in the same location I had previously used as a  street performer. Between the years 2004-08  I  worked  as a full time street artist licensed by the city of Toronto creating live large murals  and exhibiting small artworks in this spot. At the end of 2008 I moved my practice indoors to work on more extensive projects. However for the 2009 Nuit Blanche he returned to Queen St. for a one night only extravaganza. The display was twice the size of my regular outdoor exhibitions and included live music and a new upright gallery style installation.