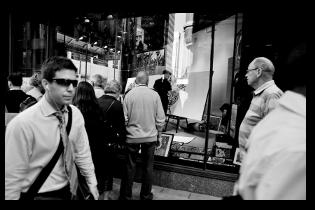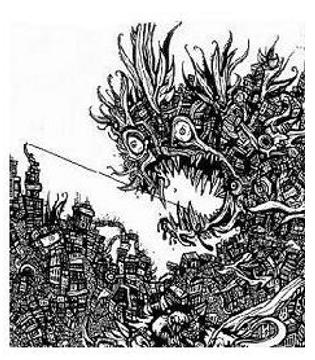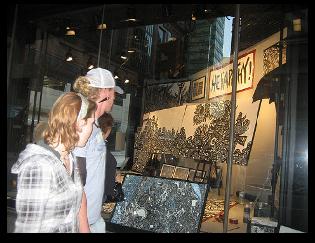 STOREFRONT EXHIBITION
Surreal Drawings! Live painting performance and exhibition in the Store front window of the Hudson's Bay Company flagship Toronto location. The exclusive presentation showcased a broad selection of "HEY APATHY!" artworks including acrylic on canvas paintings, ink on paper drawings, various prints, posters, graphic novels and t-shirt designs as well as the creation of 4 x 16 foot live mural.  Entitled "Metropolitan Fables" the drawing installation transformed the prestigious commercial window display into the artist's own work studio and gallery.

Using comic strip narratives about strange denizens interacting with personified architecture, the storefront display focused on the unconscious struggles that exist between man, nature, ethics and success. The artworks investigate our urban commercialized lifestyles questioning the scope of man's intelligence,  ignorance, greed and alienation. The 4 x 16 foot mural depicted the city as a giant dragon. The sea creature has been hooked by a tiny little fisherman perched atop on of the buildings. This concrete parable points to both the optimistic notion that man can overcome any adversity as well as examining the possibility, that man is  beast himself. Other works in the display depicted various heroic characters such as super-humans, samurai and musicians, doing battle with mechanized robots and monstrous skyscrapers. 
The huge window display was awarded to me as part of nation wide promotion in which the flagship Canadian Hudson's Bay Co. outlets featured live demonstrations by a select group of artists. The three day "HEY APATHY!" performance took place in the prestigious store front of the located on the corner of Yonge and Richmond Street in downtown Toronto. Set up as both a work and exhibition space, I painted live murals in the windows for the duration of the store hours completing two large murals. The first was a two-day venture in which I created the City Fish, a 4 x 16 foot acrylic on wood panel artwork, followed by a 12 x 12 foot street style ink on paper painting work entitled "The Witchdoctor".