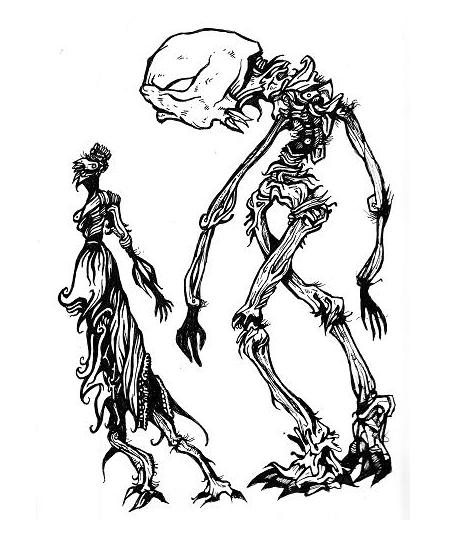 THE FASHION SHOW HORROR
FASHION MONSTER! The seats fill to capacity as the doors and lights are shut. Newspaper peoples horde the front isle while decadently decorated celebrities fain a distaste towards the attention. The fragrance of gossip and cleavage mix with the wine and silicone to permeate an alchemical concoction unknown the common citizen. The stage is set and music begins. At last the first presentation of the seasons new wear. 
A shuffle and some footsteps are proceeded by a muffled grunt as the curtain shakes slightly allocating silence over the crowd. The camera's are set and the show begins! Two small, sharp, and boney claw fingers breach the drape through it's red velvet separations. The first and only remaining models crookedly stroll out onto the runway. Devoid of clothing, of flesh and of all human qualities, the massively manipulated plasticities drip and ooze meat from hairy pores. Celebrated exoskeletons slobbered with strings of muscle covering the non-existent new clothing as the insides move outward in this magnificent debut.
Grinning crooked fangs smile ominously at the audience as the first model guides the second around the elongated pedestal. With a death defying roar the large beast concedes navigation, following it's guide leaving behind strange drip marks on the floor. A ghastly stench, recognized only by morticians, sweeps through the audience annihilating the original aroma long after curtain is drawn. The monstrous models retreat backstage all within a brief shocking moment leaving the utterly surprised the audience hovering speechless entirely delayed in it's reaction. The latest trend seems to have stripped down, murdered and satirized all of last years ridiculous and lucrative designs. After a short deliberating process a single observer but of the utmost importance and status, rises up from her chair. Her opinionated action deflates the mass paralysis instantaneously inciting the inevitable standing ovation and thunderous applause.