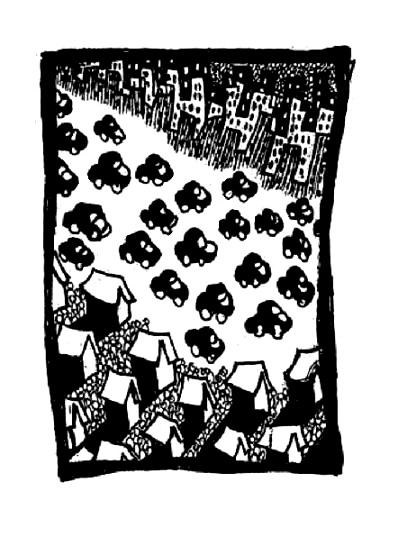 THE COMMUTE
City Drawing! As the alarms sound the city wakes to the rhythm of engines and electronics. Rolling out of bed and out of our houses the citizens all join the progression line moving towards the city. One by one in unison everybody finds their way through the traffic to take their place in some building behind a desk. Hours pass as we consume resources and information, creating and destroying in nothingness as we wait for the next alarm. Finally the sirens sounds and we all get up from our desks walking backwards towards the exits of whatever building. In reverse of the mornings activities the vehicles all line up and make their way back through the traffic. Leaving the progression line everybody rolls up to our houses to partake in the evenings hypnotic messages before returning to their beds. As the alarms sound the city wakes to the rhythm of engines and electronics.
The "Commute" was a big part of my life for a long time and naturally became an interesting symbol to experiment with. Having grown up in an east end suburb of Toronto I basically had to travel everyday to do anything. In high school it was only a short 20 minutes but by the time I was attending college downtown my trips were anywhere from 1-2 hours. I was always mesmerized by the strange routines of the metropolis as I watched literally thousands of people struggling through traffic jams, crowded buses and trains every morning. The afternoon was even worse and I remember the driving up the exit ramp from the highway to one area where I lived could take longer than the whole rest of the commute.
I also enjoyed watching people and seeing how they deal wit the chaos. There were a lot of people getting angry, reading books, sleeping and listening to music in the mornings while the afternoons tended to be similar only with a lot more young people socializing. At any rate I always felt like this was the city's body coming to life. The road and railways acting like veins and arteries pumping the blood through the system giving the metropolis it's power. I drew a number of variations on this theme for the first "HEY APATHY!" series ranging from 5 x 7 inches up to 8 x 10 feet. It is also interesting to note that since I have relocated downtown I haven't had to partake in the commute for over 10 years yet it is so deeply engrained in my existence that it still turns up regularly in many of my city drawings. 
RELATED PAGES