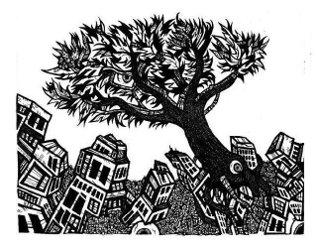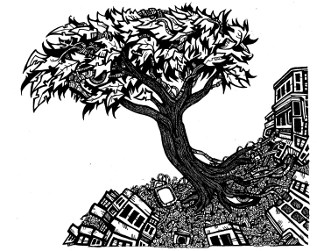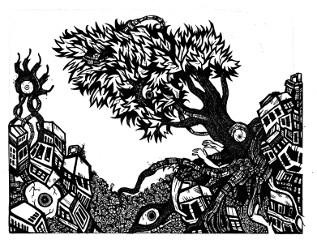 TREE DRAWINGS June 2011! Nature, Man & Technology intermingle in these beautifully surreal summertime landscapes. The city is a giant gear, but it is all the people, their interactions and planetary reaction's that power the machine! The Trees grow tall, towering over the monstrous metropolis but with each new ring the silent creatures encounter new catastrophes. Concrete, smog, loggers, hunters and commercial transformations threaten the foliage with every breath. Even the arrogant artist tears Mother Nature to the ground just to scribble nonsense across her face! As time and evolution passes the ancient beasts adapt in the only feasible manner.
In the face of extinction the silent yet sentient beings decide to take drastic actions. With no other choice than to mimic the madness the woodlands begin a strange yet unavoidable metamorphosis. First the trees grow eyes, them human extremities, blood runs instead of water and the foliage proceeds to adapt more of mankind's characteristics. Following the anthropomorphic evolution the trees continue, like the humans, to assimilate popular technologies. There roots turn to wires feeding electrical currents while the new buds emit radiated airwaves capable of transfer mundane messages modeled after our phones. As hideous as the experience may be, the trees accept there upgrades gracefully for it is their only chance, thrive to survive … Such is progress!
This collection of black and white ink drawings examines a terrifying imaginary reconciliation between nature and the metropolis. The imagery revolves around the unification of three traditionally opposing forces; nature, man and mechanics. The trees have human eyes, arms and electronic rooting systems, all of which seems to make sense in this technological day and age. Despite the satirical nature of this tale there is something peacefully suggestive in the balance of the artworks. The strange combination presents an optimistic hypothesis suggesting plants and progress are destined to cooperate because there simply isn't any other option.