THE MONSTROUS METROPOLIS
STREET ART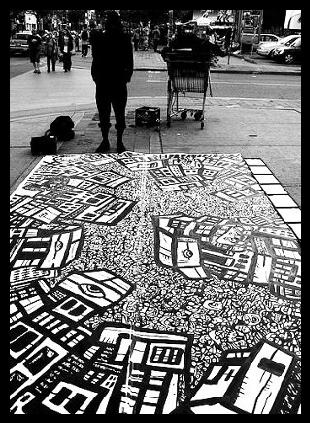 HEY APATHY! GRAFFITI ARTWORK STREET PAINTING The city is a giant gear but it's up to all the strange denizens to propel the machine! Monsters, Cars, Commuters and Creatures inhabit the monstrous metropolis. In the distance we can see the cog wheels filled with hordes of faces people spiraling infinitely around fuelling the factory. However as the work day ends and the whistles blow, the apparently anonymous creatures file out of the buildings and on to the streets. From this dangerously close vantage we come to realize that these are not indistinguishable cogs after all, rather the crowds are made up of all kinds of crazy characters. But beware all individuality is still at risk! Beneath the eye of the all Seeing Tower technological tentacles are assimilating mankind! Weird wires and unusual devices have attached themselves to the ears, eyes and appendages of unsuspecting young consumers everywhere corrupting thought waves and corroding social expressions at an immeasurable rate!

These large ink murals were all made live in the streets of downtown Toronto in front of large audiences throughout the summer of 2007. Every weekend that year I duct-taped a 10 x 15 foot paper surface right on the sidewalks of Queen Street West or Kensington Market in order to create these crazy metropolitan murals drawings. The artworks were made spontaneously constantly inspired by the daily news, the surrounding environment and most importantly the crowds of people I'd met and painted for. The illustrations would take anywhere between 3 and 6 hours to complete using various sized brushes and black India ink on a heavy weight lithography paper. I made 27 of these large format comic book drawings between the months of June and September of 07.

The entire collection of large murals was exhibited at the Resistor Gallery the following Dec. The work was installed as a make-shift hall built from end to end and back to back murals. The murals encompassed the entire gallery presenting the viewer with a life sized peripheral imaginary cartoon environment featuring strange creatures, superheroes, monster buildings and surreal gear shaped buildings.