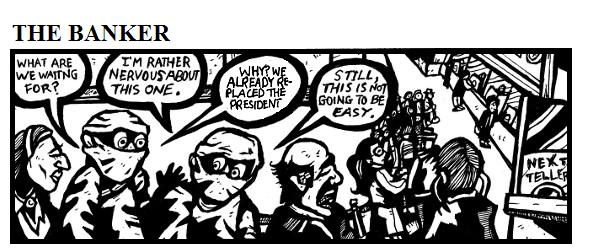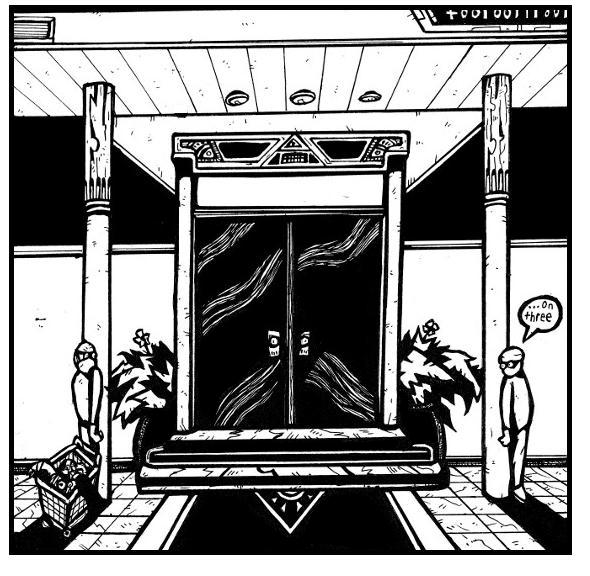 ---
BLACK WHITE COMIC: THE STORY SO FAR....
Black White Comic "The REPLACEMENTS!" A strange team of mad scientists made up of a stereotypical old doctor and two identical twin assistants have begun an unusual experiment using regular people from all walks of life as the test subjects. Hidden away in their diabolical lab the crazed geniuses have mastered a weird alchemical combination of technological robotics, DNA manipulation and black magic to create an army of life sized homunculi. These manufactured peoples look, think and act just like regular humans making it impossible to distinguish one from the other.
Using their new born society the Mad Scientists have set out to replace people of varied positions in the world in order to observe the effects. The villains have no pretensions of controlling the replacements nor of manipulating the world through power but instead they aim to prove the meaningless of existence. The lunatic hypothesis being that it doesn't matter in the least whether on person or another is the president, a banker, an office worker or a derelict and that existence as we know it will continue regardless of any circumstance. The scientists truly believe that nothing matters in the least as the world spirals into certain doom.
While no one has caught on to the weird replacements there has been a lot of excitement in the news. For some unknown reason giant Robots have been launching destructive attacks on various areas in the city's downtown core. The Robots have been appearing at random places and using their giant fists as well as the occasional laser beam to smash buildings and roadways to pieces. Luckily for the City a mysterious little superhero wearing an eyeball on his cape has arrived to thwart the terrorist robot attacks. Although neither the police nor the media has uncovered any information regarding the hero they are thankful for his assistance as there have been no human casualties so far.
Are the Giant Robots part of the Mad Doctors plan? Will the crazy scientists replace all of humanity? Will anybody notice or even care? These are the weird questions that will maybe be answered by the end of this comic! For the most part this tale is told through a number of single page episodic vignettes related by the thematic "replacing" of different people. Each comic page of this impossible narrative is accompanied by a short story or explanation regarding the topics and inspirations behind the weird ideas. Follow the surreal investigation into the meaninglessness of life with the REPLACEMENTS!