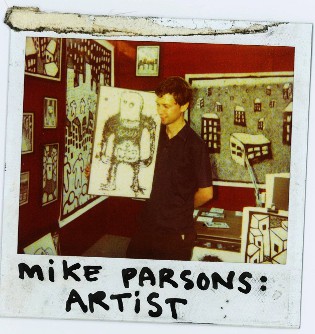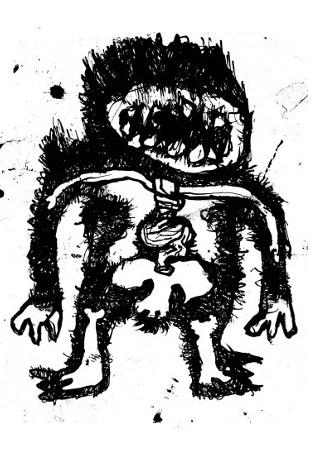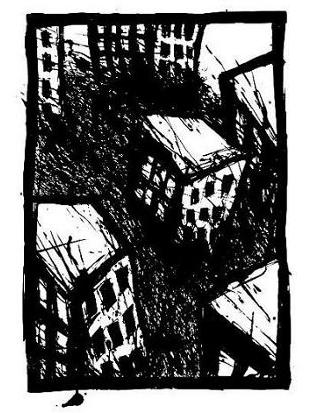 TORONTO OUTDOOR ART EXHIBITIONS 2002-03
BLACK AND WHITE ARTWORK PUBLIC EXHIBITIONS! I first started exhibiting my works in at public festivals in 2002. After spending more than a year working in studios and showing in student competitions and galleries I was really interested in getting the work into an environment were I could interact with people. The first public showcase I participated in was the Toronto Outdoor Art Exhibition. The TOAE is a large annual event held at Toronto's Nathan Phillips Square and features over 400 artists from all over the world. My inaugural exhibit proved a roaring success as I met collectors, dealers and most importantly all sorts of people from all walks of life. It was a truly amazing experience and unlike any of my other exhibitions because of the immediate interactions I was able to have with audience.

For the exhibition I designed a portable 10 x 20 foot gallery backdrop. The large outdoor installation was painted red and decorated with an array of black and white apocalyptic ink drawings inviting the audience into an all encompassing peripheral environment. The experience of discovering the installation was best described in an article by Sascha:
 
"I will never forget the first time I saw Mike Parsons work. I was wandering around the 2002 Toronto Outdoor Art Exhibition when a friend rushed up to me. "Have you seen the guy who does the big black and white buildings?" he asked excitedly. Without waiting for me answer, he grabbed my arm: "Come on, you have got to see this!"

We hurried along the east side of Nathan Phillips Square, and he pointed. A 13-foot drawing of a building being blown away by an atomic bomb-like force was pinned across the back of a booth. Smaller drawings of hurtling and exploding buildings or tilted towers dwarfing faceless crowds covered the side walls and pavement. Amidst it all a slight young man with ink-stained hands rushed about, gamely battening down the corners of the drawings as the wind picked up. Everything around him seethed with energy. (from "Between Catastrophe & Celebration" 2006)

 
Bringing new ideas to the public forum and taking into consideration the thoughts and arguments of all sorts of people, regardless of race, age, creed or education, really excited me.  I realized that public venues would be the most important place to begin my urban investigations. The immediate conversations with such a varied audience proved immediately inspirational and if I was going to understand anything about the city, people and even existence in general, first hand immersion in the subject was absolutely necessary. In 2003 I participated in several more public festivals including the T.O.A.E., the inaugural art showcase at Toronto's Distillery District and the Toronto Comic-Con Fan Expo. Unfortunately I rarely thought about documenting my black and white artwork and the only photo that survived from this early era is the little Polaroid snap shop included on the top and right side of this page.