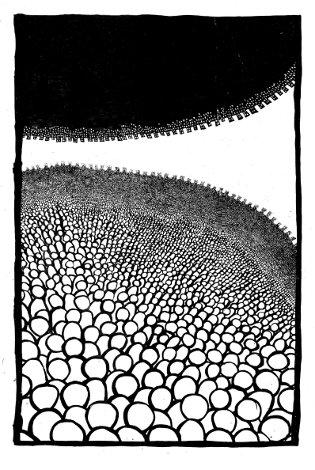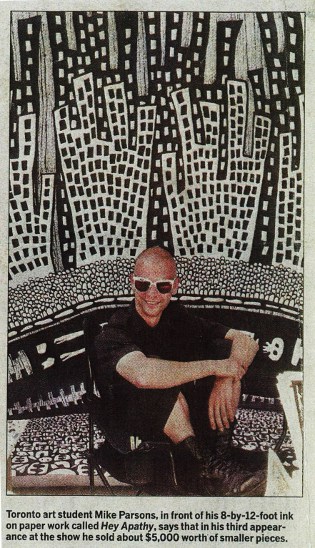 OUTDOOR ART DISPLAY 2004
BLACK WHITE DRAWINGS! In 2004 I participated in my 3rd consecutive Toronto Outdoor Art Exhibition. As in the previous years I set up my giant 10 x 20 foot custom portable gallery showcasing a broad range of ink drawings ranging from sketchbook sized to large scale ink murals. Thematically I created an imaginary cityscape installation using the large walls to display the buildings and skyline ink drawings and a table set up featuring a multitude of character studies. The overall effect of the booth was designed to help the audience escape the surrounding exhibition and enter a cartoon metropolis. Once again the T.O.A.E. was a great success; I made the papers, made some artwork and met hundreds of people from all over the world.

One of the most interesting developments of my public investigations occurred when I started working on black white drawings during the show. I had never considered making art at any of the events before but as chance would have it I came across an extra piece of blank paper  mixed in with my finished paintings after setting up the display. I had enough table space so I thought I might as well do some drawing to pass the time until the show started to get busy. Interestingly enough people started to gather around and I realized how mesmerizing the demonstration actually was.  I suddenly found my self working and conversing in a simultaneous fashion, a technique that would later become the center piece of my public exhibitions. The process seemed especially inspiring to younger viewers and my work began attracting a lot of kids and teenagers. It is such an ordinary thing for an artist to work but it turned out that the process could be a rather fascinating for others to witness.

Not only did the live drawing attract more young viewers but it seemed to help me open up conversations with anyone who passed by. I found it easier to talk to people because the demonstration seem to relieve the commercial tension making the audience feel more comfortable and curiously willing to approach. I engaged in strange and interesting conversations  with people from all over the world and of all walks of life throughout the entire weekend. I was amazed to hear all the different interpretations people had for my images and was equally stunned by the amount of travelers that I met that year. I started writing down all the different places that people had come from and started to see the public festival was a vortex connecting me to all sorts of worlds that I'd otherwise never of known. It was around this same time that I decided to extend my public experimentations and started working as a street performer in addition to the larger events.