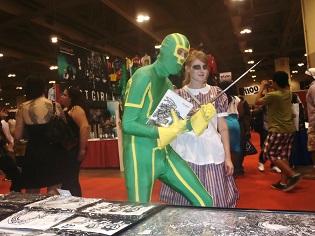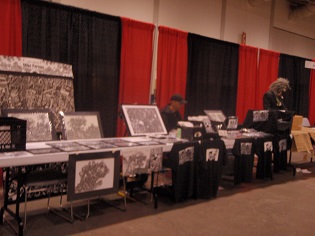 COMIC CON EXHIBITIONS!
Comic Con Exhibitions! Monsters, Villains, heroes and Weirdoes make the surreal real at these crazy cartoon celebrations. The comic book conventions are one of the most exciting places to exhibit artworks because of the huge crowds of bizarre people. Entering the con is like travelling to another dimension. The place is full of cosplay characters, unusual fashions, exciting artworks and strange social interactions. Every year I meet all sorts of weird people and creatures while talking about imaginary ideas, exchanging comics and hunting for lost treasures. From video game dance competitions to science fiction weddings the energy at these events is incomparably inspiring. Probably the most amazing thing about working these expos is that the audience is as much a part of the show as artworks.
I usually set up the "HEY APATHY!" booth in the artist's alley at the expos. The alley features a broad range of  creative people ranging from aspiring manga illustrators, to independent fashion designers all the way up to the top professionals from the comics industry. I exhibit a broad range of prints, illustrations, t-shirts and comics. The cons always inspire me to create new works and are generally the best place to debut new clothing designs and graphic novels. In the past I have created numerous limited edition comic book styled artworks exclusively for these events. In 2012 I designed my first sequential story on a t-shirt and a 64 page anthology collecting a number of previously unpublished short stories.
 The photos on this page are from a variety of different conventions. Toronto hosts numerous events including the Fan Expo, Anime-con, Comic-con, Wizard World and the Toronto Comics Arts Festival. Every year I participate in the Fan Expo which is the biggest of the showcase while I like to rotate between the other events depending on my work schedule. Even when I don't set up in the artist's alleys I like to go as a spectator because each one has its own charm and it is always exciting. Some of the smaller cons are great because it is easier to meet the profession artists and find good deals and all the anime festivals have amazing costumed characters. The FanExpo however, is just madness boasting crowds of over 80 thousand, the biggest names in the industry, and the most inspiring artist alley; you are guaranteed to encounter some weirdness in there.