VIDEOGAME ARTWORK AT NUIT BLANCHE!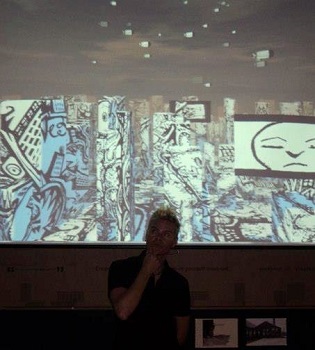 Michael Peters at "Built for Art" 401 Richmond St.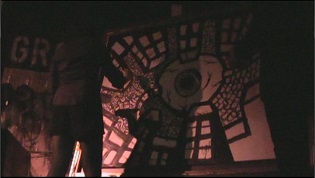 Mike Parsons live painting  at the Drake Hotel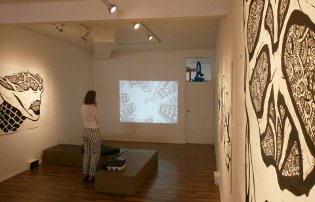 Installation at Robert Kananaj Gallery
CG Artwork at Nuit Blanche! Crowds of crazed citizens scurry between tombstone towers, mechanized monsters run robotic factories and twisted landscapes turn terrible beneath a bombarded red sky. Enter "The Virtual Metropolis" an interactive video installation which combines traditional ink drawings, hand drawn animations and acoustic music with computer generated images and electronic sound effects. Featuring a series of symbolic environments the user is invited to explore and interact with the landscape in order to discover the strange and subliminal relation each area has with the others. Cities, factories, war zones and cerebral interiors appear to be seamlessly interwoven as if a singular entity. The artwork examines various states of contemporary global culture through the use of a relational platform stressing the role of the individual amidst all the madness.
As an official selection in Toronto's 2012 Nuit Blanche festivities "The Virtual Metropolis" interactive videogame artwork was featured in three locations across the downtown core. The headquarter exhibit was held at the Robert Kananaj Gallery along with a complete collection of large scale pen and ink drawings entitled "None of these Things". Connected installations were presented at 401 Richmond Street as a part of the "Built for Art" showcase and at the Artscape Wychwood & Barns "Destination North" exhibit. In addition to the three large format projected installations a live painting performance to promote the work took place at the Drake Hotel. The evening was a massive success as the Hey Apathy! artworks appeared simultaneously all over the city.
The "City of Gears" video game has become one of the most exciting aspects of the "HEY APATHY!" project. While continually evolving the work has been featured in three consecutive Nuit Blanche events as well as in galleries in Toronto, Ottawa and London England. The inclusion of the project in the EVA London conference (Electronics in the Visual Arts) was a particularly amazing event as the work, initially scheduled for a 30 minute presentation, was rebooked due to popular demand and shown for over 2 hours during the conference. A finished version of the artwork is scheduled for release in the fall 2013.