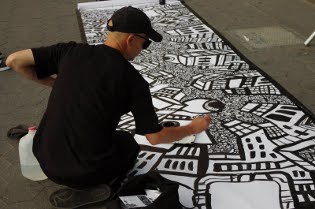 NEW YORK GRAFFITI STREET ART
SIDEWALK ART AND NEW YORK GRAFFITI STREET PREFORMANCES!  From a distance the city announces itself as an ominous gear propelled by an endless sea of faceless denizens, however as we move in for a closer look the crowds begin to identify themselves. Situated in the middle of the madness the metropolis still appears to be an overwhelming factory, only now it becomes apparent that it is all sorts of strange individuals, not anonymous cogs, who fuel the machine. One of my favorite ways to draw has always been to set up a giant piece of paper in the middle of a busy street and perform while talking and observing the weird creatures and characters which inhabit the concrete jungle. In 2010 I did fewer public performances than in the previous years but made sure they were more exciting as I discovered new faces, new venues and Washington Square park…

Since 2004 I've been using the public forum as my primary venue for my artistic investigations. I was always interested in the city and people so I decided to work in public were I could study these monsters first hand. it made sense to immerse my self deep in the   I started my urban experiments by painting renegade graffiti murals, exhibiting at large scale outdoor public festivals and working as a full time street performer in the city of Toronto. The best part of being a public artist is the random encounters and chance occurrences which can only happen while roaming the city streets. As a result of this process I have met thousands of people from all over the world and of all walks of life.

My sidewalk art performances generally consist of large spontaneous  paintings of the city, people and the strangeness of existence in general. The murals feature an imaginary "City of Gears" and emphasize the interrelationships which exist between the individual and the metropolis. Although my earliest street drawings were just small sketches by 2007 I was making 15 x 15 foot murals in a single afternoon. After four years of constant experimentation including interventions, gala performances and storefront displays I decided to start travelling with the performance.
 
Of the new places I have visited my favorite one is Washington Square Park. The park is famous for hosting spontaneous performances and has a long history with street art. I must say that despite a changing world the park hasn't changed all that much. There were painters, dancers, gymnastics and jazz players everywhere. The crowds were incredible and the energy was extreme. The circular fountain is like a vortex inviting people from all over the world to come and participate, even the spectators are part of the show whether they like it or not, absolutely everyone gets involved. I have to say that it is the most fun place to paint that I could possibly imagine; nothing can compare to the sound of a child's thick Brooklyn accent cheering on your performance while you work under the arch!