MIKE PARSONS' COMIC BOOK FROM THE PAVEMENT
INDY ART! Burnt muppets and other dystopic visions, as inspired by the streets of Toronto.
By Leo K. Moncel
Mike Parsons is an artist who works on the streets, drawing about the streets. You can often find him drawing on Queen St W, near Spadina. Parsons' black and white cartoons are bold attacks and direct satires on the way we live in the city. Appropriately, the art is vicious, sometimes hellish, but through it, Parsons finds the fun.
When I meet Parsons, he is having a party to say goodbye to his old indy art Kensington Market studio. The unit has been completely cleared out minus a few essentials, but the space is crowded with ideas, wall-papered in Parsons' art. Parsons is smooth-faced and shaved shinily bald. He is a small man who is soft-spoken. Immediately after introductions, Parsons jumps into interpreting one of his larger pieces, which dominates the hallway.
"It starts with two kinds of people. There are people who are wired up or on cell phones and they're drooling and a little bit out of it and there's people who are not wired up and they've got extra eyes. They can see a little bit more than everybody else." He brings attention to the center of the piece.
"The hero is based from the novel [Harrison Bergeron] where everybody has to wear handicaps so everybody stays at the same pace, nobody accelerates. And there's a comparison between them and all the wires everybody wears and that's the future," Parsons laughs nervously.




"That's what I see on the streets everyday, strange stories, everybody putting headphones in their faces all the time – can't pay attention to what they're doing." He gestures across the whole page, "From there all the way to here is all the ideas in one big piece."

Parsons leads me into a large, windowed room and points to a quiet, lonely piece on the back of the door. "That was [one] of the first things I ever did. Really abstract buildings, faceless people just spiraling over and over again. The more time I sat on Queen Street drawing, the more the characters started to have faces." He points to a radically different piece, a chaotic jumble of faces in a crowd, "This one is an illustration when I'm sitting right in the middle of it. It's exactly what I'm seeing everyday,"

Parsons takes me out to the sidewalk where he works on a sign for the indy art party.

"How much time do you spend down there on the street, in a week?"


"Probably about 40-50 hours. Almost everyday, but weekends are the fun time. I like to do lots of drawings when it's the busiest. You're not in a gallery where people are looking for art. You're just sitting in the middle of all these clothing stores – what you need is volumes and volumes of people to find those people who are actually interested, and the more people that are out there, the more exciting it is,  more strange stories happen cause you're catching them offguard."



"On the street-" Parsons becomes impassioned, "you're meeting all kinds of people who never thought they were ever gonna see your drawings and all of a sudden you're sitting there. And after a while, people have started to come back to find us and see what we're doing, so it's pretty cool.
"It's totally different from any time I've ever exhibited – when it's a lot of very rich people with a lot of money but not necessarily buying – it's not as much fun, you don't meet people."
"Have you always worked in this style, drawing about the same sort of things, same sort of themes?"
"Yeah, this is almost an ongoing indy art project for five or six years and each time it changes and adds to itself but it's always sort of the same comic book. Little bits and pieces are all upstairs there; they all are part of the same story."
"So, far from getting redundant for you, it's getting deeper and bigger as you go?"
"And it's getting more fun. And a lot of times, looking back on things that I thought were redundant, you put it away for a while and look back on it and it's fresh and new again. It's always exciting and lots of fun. LOTS of fun."
He finishes the sign and we head back upstairs. The party is filling in. "The fun thing about [indy art] is making it, people watching it being made and people's reactions to it. Sometimes they are scary stories, but it's totally smiles, it's never like, people going home to cry after they look at these horror stories. If it was all serious, I'd probably be insane. Like, the most depressed, horrified person. These guys, people often told me," he gestures to a wall of small, monstrous faces, "they look like Muppets that've been burnt. So that's very childish. I wouldn't want it any other way."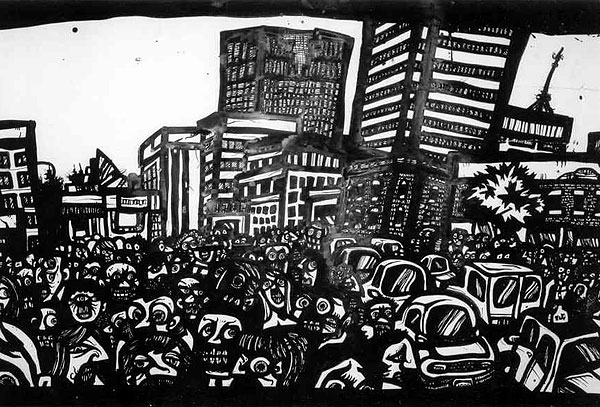 READ MORE INDY ART STREET ART STORIES