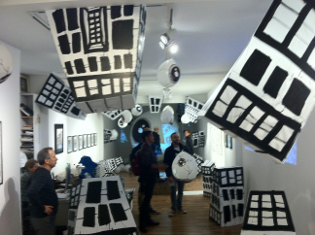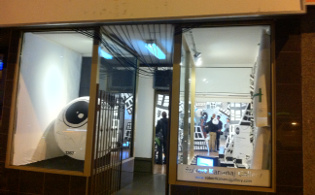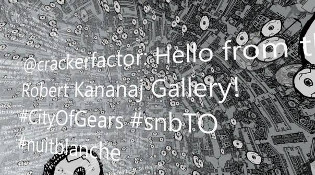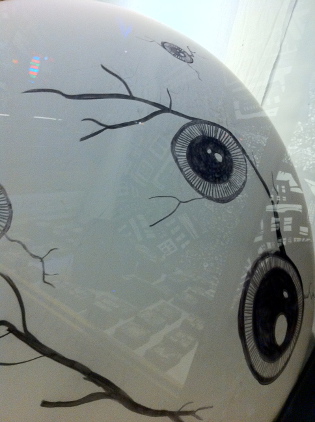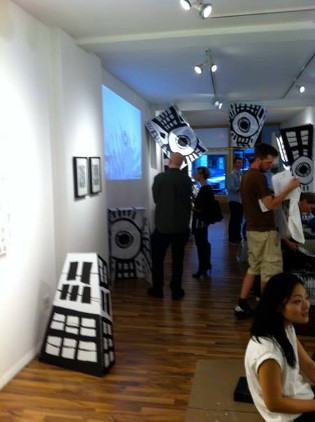 CREEPY EYE! The city is spiraling around us like an uncontrollable gear as we are hypnotically pulled towards it's centrifugal ocular! In the middle of the madness hovers an enormous eyeball. It is a surreal conglomeration of all human thoughts, it is the unconscious! Once we escape from the mesmeric forces we become more aware of our surroundings only to realize that we are not alone... floating all around us are endless optics. While we were busy watching the city it was watching us!

I created this fun-house style art installation to try and take my regular ink drawings to the next level. Instead of just looking at the work in a gallery I really wanted everyone to feel like they were standing in this world. I used to simple symbols to achieve this effect and create a weird narration. The tombstone like buildings jutting out from the walls in every direction are meant to great a vertigo "City of Gears" effect while the huge eye at the end of the gallery attracts our attention. The audience would walk the length of the city to investigate the center piece and when they turned around I had put eyes on the back of every building so you get the sensation that the metropolis is also watching you. The idea is too kind of freak every one out and hopefully raise a little paranoia ( and awareness)  after they leave this cray world and walk out into the streets.

The installation also featured a number of looped animations which were projected on the eye as well as played on various small screens scattered around the gallery. A second projection displayed the interactive video game version of these drawings and we completed the madness with an original electronic score. A series of detailed ink drawings also ran through the middle of the gallery resulting in a massive multimedia extravaganza that was exciting for everyone from young kids to sophisticated collectors.

This installation was an official independent project selection at the 2013 Toronto Nuit Blanche. For the event we stayed open from 7 pm until 7 am and had enormous crowds almost the entire night. Around five in the morning things slowed down a bit due to a heavy rainfall but people kept coming all the way until sunrise.