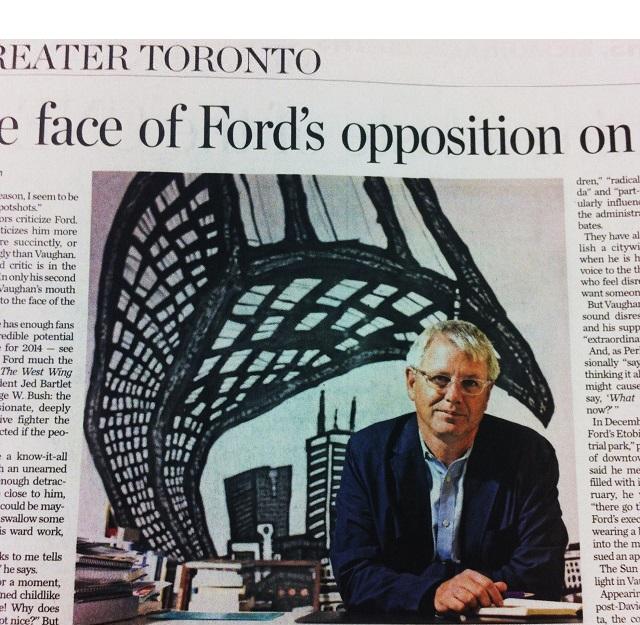 Adam Vaughan: The thorn in Rob Ford's side
Comic Murals! This is another example of the "HEY APATHY!" artworks appearing in an article related to city policy and politics as opposed to fine art.
 For better or for worse, the man is a machine. Adam Vaughan , seated in front of the giant comic murals,offers up colourful quotes even when he is doing an interview on the subject of his colourful quotes.
 Adam Vaughan quote: "Rob Ford is the mayor of slogans, and so sometimes you have to confront him with a slogan."
 Adam Vaughan quote: "If it required a paragraph, I could give you a paragraph. If you want a poem, I could give you a poem. But when you're dealing with a politician whose idea of political philosophy is 'subways, subways, subways,' the response has almost got to be as short and as stark as the proposition."
 Adam Vaughan quote: "There's no point in pussyfooting around. If he's wrong, he's wrong. I just categorically and fundamentally disagree with his view of the world."
Adam Vaughan quote: "He takes potshots, someone's gotta give a potshot back. That constitutes 'balance' in this day and age. And for some reason, I seem to be the go-to guy for potshots."
 Lots of councillors criticize Ford. No councillor criticizes him more aggressively, more succinctly, or more entertainingly than Vaughan. And, so, no Ford critic is in the news more often. In only his second term on council, Vaughan's mouth has turned him into the face of the opposition.
 His fans — and he has enough fans to make him a credible potential mayoral candidate for 2014 — see him in relation to Ford much the same way fans of The West Wing saw fictional president Jed Bartlet in relation to George W. Bush: the eloquent, compassionate, deeply informed progressive fighter the people would've elected if the people were smart.
His detractors see a know-it-all downtown lefty with an unearned smirk. And he has enough detractors to make people close to him, people who think he could be mayor, tell him he should swallow some potshots, focus on his ward work, soften his tone.
"Everybody who talks to me tells me I need to be nicer," he says.
 He mock-protests for a moment, his voice rising in feigned childlike innocence: "I amnice! Why does everybody think I'm not nice?" But he knows the answer.
He was a television reporter for 10 years before he was first elected in Ward 20 (Trinity-Spadina) in 2006. As part of the job, he says, he watched "endless" footage of himself. Even when he was on the other side of the microphone, posing confrontational questions to councillors as an openly opinionated journalist for Citytv, it was there.
"I know what people are referring to," he says. "There is an edge to the way in which I talk and the way in which I think."
 In a July column in the Toronto Sun, former Ford press secretary Adrienne Batra compared him unfavourably to his late father, the journalist and councillor Colin Vaughan. Less than a month later, he does the same thing himself.
"I'm nowhere near as charming as my dad," he says. "My dad was able to do it with a smile, and everyone got it. I have a bit of an edge to me, I guess, that's a bit different. As I tell a lot of people, I take after my mom. She was a tough — you didn't mess with my mom."
 He says he has made an effort to be "gentler." To stop himself from getting in trouble with ill-advised heckles during council meetings, he quietly draws satirical cartoons of Ford and Ford's allies. He refuses to sign up for Twitter, the snark-friendly online social network on which his zingers would be a sure hit, because he doesn't think he could avoid "blurting" things he would later regret.
 Fine and good. If he wants to be mayor, doesn't he still need to get cuddlier? "If being mayor means that I can't be Adam Vaughan," he says, "then maybe Adam Vaughan shouldn't be mayor."
The comic murals backdrop in this photo was commissioned by Adam Vaughan for his office as a semiotic representation of his agressive politic beliefs. This article was featured in the Aug 19/ 2012 paper and online editions of the Toronto Star .
Return to Comic Murals Press index
OR