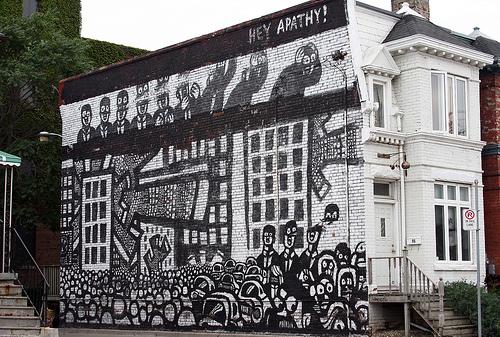 STUDIO FEED on INDY ARTS & MUSIC
Blog Toronto! Our City is a polarizing place. Many of the people who live in the city view it as a cornucopia of culture and opportunity, but to many suburbanites living outside the downtown core, it can seem hurried and stuck-up. But there's one thing that just about everyone can agree on: Toronto is packed with people and brimming with life.
Every day, more than two million people cross into the 416 area from various parts of the province, and every person – from the window shopper on Yorkville Avenue to the dog walker in High Park – leaves his or her imprint on the city.
Street artist Mike Parsons has been observing this phenomenon for more than a decade, and he's captured it all through his work.
His drawings, murals and musical collaborations fall under the moniker "Hey Apathy!" – and with over 300 outdoor performances under his belt (along with collaborations with the Art Gallery of Ontario, the Hudson's Bay Company and Scotiabank Nuit Blanche) he's a veteran on the Toronto art scene.

In 2007, he began collaborating with a collective of local musicians to create soundtracks for his murals. The evolving project, called "The Strange Music", is a city symphony of cars, shoes, subways and people, transposed over moving animations. Live gallery performances followed in 2009 and in 2010, a full-length electronic score was created for his cartoons.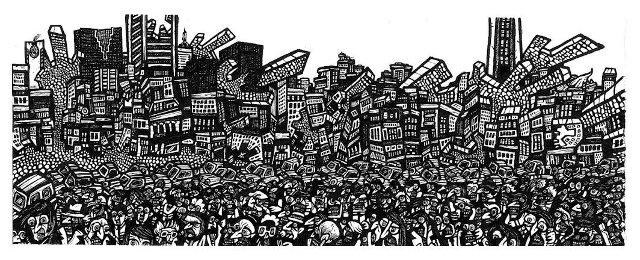 "At first I spent a lot of time sketching and observing people around the city and then I started drawing," he says. "I was really excited by the random encounters that can only be experienced out in the wild. I found the streets to be both entertaining and educational."
Parsons' drawings act as a time capsule of Toronto's culture. Landmarks – like the skyscrapers of Bay Street or the Hard Rock Café on Yonge – have been featured in his work. One of his more popular pieces depicts a "monstrously eyeballed incarnation" of the CN Tower.
"I've done a number of detailed landscape cartoons over the years that have the accumulative effect of documenting Toronto's changing skyline," he says.
And what does Parsons think about the people who inhabit this city?
He says that working on the streets has taught him a thing or two about society. When he first started drawing, he viewed the city as an "ominous gear" moved forward by an unseeing, unblinking crowd.
"But when I started exhibiting outdoors my ideas changed immensely," he says.
"Through my public investigations I was able to meet with thousands of people from around the world. I began to realize just how diverse and incredible people could actually be.
I still draw the metropolis as a giant gear, but now, I feature crowds of unique individuals. I have discovered this is true of most of the cities I have visited, and believe it is true of most places in general."
This Studio Feed Blog Toronto Article by Cheryl Santa Maria was published Jan 2013