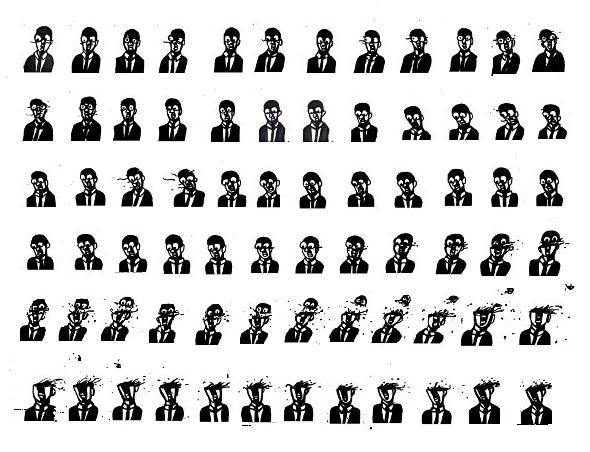 "ON HAVING NO HEAD"
HEY APATHY! ANIMATION DRAWINGS Something is stirring deep inside this man's mind, he pauses for a contemplative moment and is overtaken by … the Big Idea! I first started drawing this image as part of my graffiti street art performances back in 2005. The illustrated epiphany was inspired by a tale entitled "On Having No Head" in which a traveler, on a solo retreat in the mountains of Japan, comes across a magnificent waterfall. The situation gets weird when the adventurer realizes that with no one else around to share the experience with, the entire occurrence became impossible to describe, it was as if he had no head. In my rendition of the fable the man, draped in business attire, falls victim to a surreal decapitation born of thoughts and realizations, not external violence. The big idea here is that even though we are stuck in our metropolitan routines and it might take something more extreme than a waterfall, I think we can all still achieve in having no head. I also used this image a lot when I made Graffiti Street Art and live performances.

NOTES ON MAKING THE CARTOON
This short cartoon was originally created as a stop-motion vignette in the fall of 2005. However the original; work was a sloppy rush job made moments before an exhibition and poorly photographed. The initial film featured 180 small animation drawings and turned out rather choppy. This photography was also totally botched as I underexposed the entire film and shot the entire animation improperly centering the image and including parts of the table is was photographed on. Instead of trying a reshoot or computer restoration I decided to scan a select portion of the film and see what I could do with it as a cell animation in the computer. The result being that I only used about 20 of the original frames and experimented with three different techniques. The first portion of the film is a cell cartoon (intro), using only a single drawing with minimal movements, the second part (where the head explodes) is made with a stop motion technique using about 25 different drawings for the sequence and the finale (the headless sulk) combines cell and stop-motion via a loop of 30 variations on a single drawing.

THE STRANGE MUSIC
This strange music was taken from the first thirty seconds of a recording. It is pretty much everyone in the group making one or two weird noises at warm up. I just lined up a long recording beside the animation intending to move the cartoon around the time line in hopes of synching something up. The thing started playing right off and the horn matched the opening logo and the eyes blinked in cue with the music and an organ started when the head popped off so I kept it.