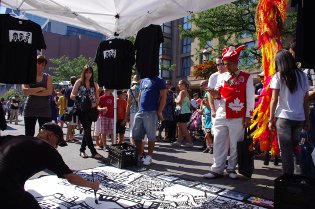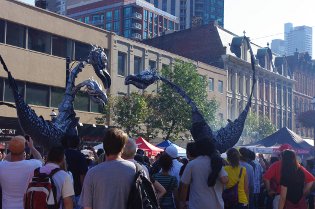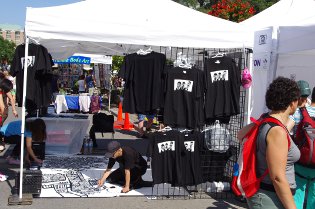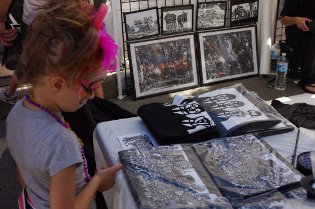 GRAFFITI STREET ART 2010
AMAZING STREET ART! Live Street Paintings at St. Lawrence Market! In 2010 I joined in the giant outdoor party at Toronto's annual Buskerfest. Every year all sorts of performers including stilt walking dinosaurs, magicians, dance troupes and live musicians take over the St. Lawrence historical area and literally transform the streets into a carnival. The event runs for four consecutive days at the end of the summer and features non-stop performances from noon until after sunset. The evening portion of the program is highlighted by fireworks, fire dancers, and extravagant costumes in a mardis-grad style environment.

For my contribution to the festival I set up a large scale drawing performance under a pop-tent in the middle of the street. Inspired by the surreal surroundings I created a series of twisted landscape drawings featuring strange intermingled and impossible roadways filled by crowds of crazy characters such enormous clowns, mysterious magicians, and unusual life sized puppets. I was particularly interested in the disorienting affect the festival emitted. Even though the whole thing took place along one 4-lane street, the entire area seemed somehow scrambled and had become a world of it's own. I continued to work throughout the entire celebration and completed 3 10 x 15 foot artworks by the end of the event.

In addition to the dream-like environment I also really enjoyed getting my work back out on the streets. Between the years of 2004-08 I worked as a full time street artist but had since moved my practice indoors and on to other things. Participating in the Buskerfest was really fun and gave me a chance to get outside and interact with people once again. My favorite part of public performances is all the weird people I get to meet. By doing outdoor exhibitions I found a way to break through social barriers and become instantly acquainted with the most unlikely of strangers. At the Buskerfest I met hundreds of people from all over the world and of all walks of life. Buskerfest was especially rewarding because it attracts a lot more children than any of the other festivals I have done. Everytime I looked up there was another crazy kid enjoying the show.