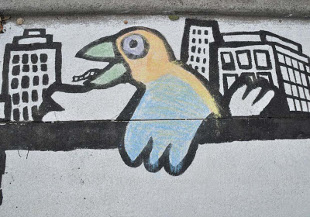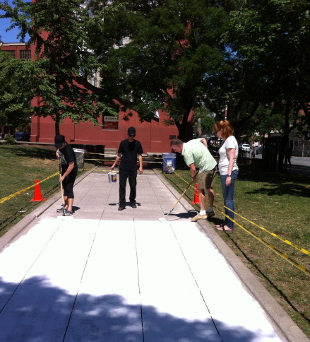 Toronto Murals Public Art in Berczy Park! This was a really exciting  project initiated to help liven up Berczy Park and make it a bit ore fun for the kids in the neighbourhood. A local community group called "Friends of Berczy" organized the mural by communicating with the city and holding fund raisers to get the project going. I was more than happy to get involved as it was a great chance to create a large scale sanctioned artwork especially designed to entertain children.

Of course given the direction of the project it was necessary to tone down my usual chaotic madness in order to create something more family friendly. This was very easy for me as I have done a number of works for kids before including T-Shirts designs, skateboard graphics and even a colouring book. In fact the idea behind the mural was to create an enormous colouring book page and provide the kids with chalks to fill it in. As you can see in some of the photos it didn't take long for the them to start colouring.

I also made the characters more silly and friendly even if there are still a lot of monsters hanging out with regular animals. The city skyline running throughout the image features a number of local landmarks that can be seen around the park. These include our famous flat iron building, the St. Lawrence Market, the local Church and some of the modern architecture. I wanted to add more interactive things to the work as well so I decided to run a hopscotch and a little maze through the middle of the drawing. Oddly enough I witnessed more adults playing these games while the younger audience seemed enthralled by the chalk.

All in all this was an amazing experience. I got to meet and work with a lot of interesting people from the neighbourhood. Many of whom actually came out to help me wash, prime and paint! I also got a really interesting inside view to the painstaking processes behind community projects starting from a simple idea all the way up to the politicians. The entire drawing took about three days to complete and was meant to last 2-3 years before the paint will wear away and the park undergoes new construction.