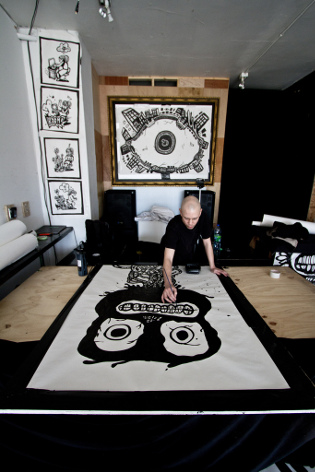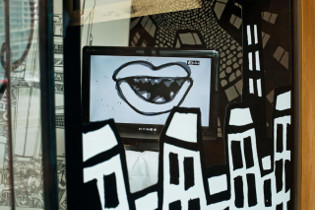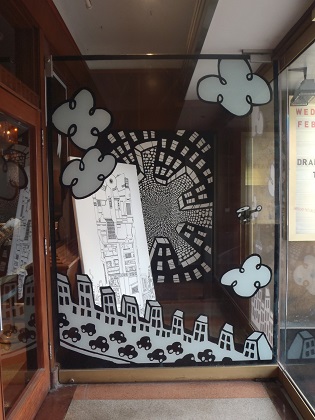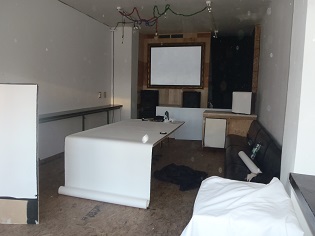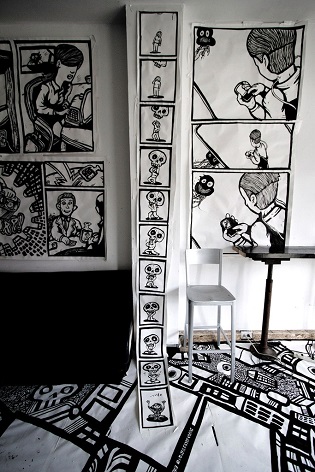 Drake Hotel Toronto Art Installation
Interview  by Erin Lucuik for Plaid Magazine

1. When did you start drawing?

I used to draw comics compulsively when I was a kid but lost interest in my teens. I'd gotten a lot of discouragement from teachers who said that it was very difficult to find work as an artist. Fortunately, around the end of high school I met a group of students from O.C.A. (the Ontario College of Art) who had all found jobs or apprenticeships working with designers and galleries. After that I realized it was possible to make a living and picked up the pen again. I was around 19 years old when I started to take art seriously.

2. What are some of the themes that you address in your work?

Most of my artwork is about the unseen interrelationships which exist between the city, people, progress and the natural environment. Although I generally use urban landscapes as the backdrop, I like to hide all sorts of strange stories, ranging from personal to political, within each artwork.

3. What inspires you to create your art?

The biggest influence on my artwork has always been the city. I find endless inspiration from the people, events, architecture and energy of the metropolis. Sometimes it's positive and sometimes it's not, but no matter what there is always something to draw pictures of when I pay attention to the city.

4. Your body of work includes everything from large-scale murals to screen-printed t-shirts and comic books. How has your work and your perspective of the city evolved over the years?

When I first started drawing I used to depict the city as an ominous gear propelled by an endless sea of faceless denizens. After my second exhibition I started to work more and more in the streets and at public festivals. Here I was able to meet face to face with thousands of people from all over the world and of all walks of life. As a result both the artworks and my perspective evolved immensely. Today the drawings still depict the city as a giant gear, only now it is all the weird and unique characters, not anonymous cogs, who fuel the machine. My public experiences also led to the development of affordable artworks, such as t-shirts and prints, as I became increasingly interested in creating drawings that are both intellectually provocative as well as accessible to audiences of all ages.

5. Your pieces are extremely intricate, on average how long does it take for you to create one of your large murals?

I have two differing approaches to making drawings or murals. When I am performing in public I use a brush and can complete detailed 10 x 15 foot murals in about 3 hours. When I am working in the studio I prefer to use quills and tech pens. These studio works are much more refined but can take several months to complete.

6. Your latest body of work is called "Hey Apathy!" Why did you choose this name?

The title is sort of a joke; an enthusiastic greeting to a world that doesn't seem to care about anything. I've used the title many times over the past ten years and consider it a brand name for my entire project sort of like "Disney" or "Time Warner".

7. You're currently in a show called "Outside In" at the Drake Hotel Toronto. Can you tell me about your installation?

"Outside In" is an exhibition of artists who show work in both the streets and in galleries. I have two parts in the exhibition. The first is the vestibule display at the main entrance of the Drake. For this installation I decided to show a combination of street, studio, and animated works focusing on the theme of construction. The exhibit features window decals and a large painting done in my graffiti street art style, a 3 x 6 foot detailed pen and ink skyscraper made in my studio and a looped video of cartoons and computer generated cityscapes.  As well as the vestibule I also did a 2 week performance painting demonstration in the Drake Lab storefront studio. For this part of the exhibition I covered the entire studio with paper and just kept drawing until I covered the whole place. (See attached Drake Lab photos) This installation was very similar to the kind of work I'd do on the streets and quite literally brought the "Outside in". The studio was open to the public from March 3-18 but the vestibule display will remain until the end of April.

8. Torontonians may recognize you from your regular post outside of the Black Bull Tavern on Queen Street West. What gave you the idea to take to the streets, literally, to create your art?

When I started drawing the city I was working in an artist's basement studio but found the idea a little bit absurd. I realized that in order to gain a better understanding of the urban environment I would have to immerse myself in the city and in its daily routines. I decided to forsake the traditional introspective nature of the studio in favor of a first hand investigative approach. My initial idea was to conduct an "unconventional interview" with the metropolis. I wanted to find out what the city was, who all the people were and ultimately where I might fit in. In the beginning I used to just put some drawings on the ground and sit on the sidewalk sketching people, but over time the display grew and grew. The process was very organic but before I realized it I was using the streets as a full force studio, stage and interactive art gallery.

9. Will you be back on Queen West again this summer?

Unfortunately there won't be any Queen Street performances this year. I am very busy working on a series of animations and video game artworks so I'll be either trapped in doors or traveling.  I'm doing shows in Ottawa, Switzerland and London, England this summer but will be back in Toronto for a solo exhibition and street installation at the Robert Kananaj Gallery in Sept. as part of the 2012 Nuit Blanche Festivities.

10. Describe Toronto in 10 words or less.

As big a city as it is a small town…